Form 5500




Preparation & Filing Services



ComplianceBug provides fast and easy Form 5500 preparation and filing services for employers who provide group health & welfare benefits to their participants.
With fines and penalties increasing each year for failing to file (2017 is $2,097 per day!), we ensure our clients and Partners have the necessary information to ensure filings are completed on-time and without hassle.
With no additional fees for additional schedules, preparation of extensions or application through the Delinquent Filer Voluntary Compliance Program, ComplianceBug is the the most comprehensive filing provider for employers and industry professionals.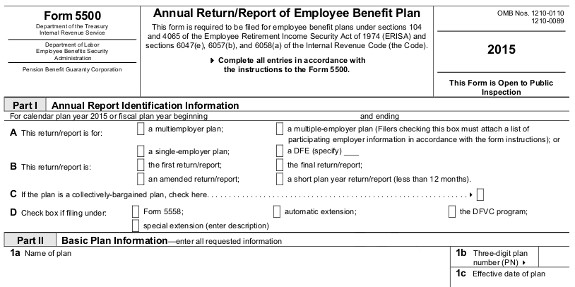 Advanced Information Tracking

ComplianceBug has revamped the way 5500's are prepared.
We proactively track and store all required headcount
and Schedule A & C data from insurance companies and administrators online.

Streamlined Process
You can see and track the preparation
and filing progress online with the press of a button.

Comparison to Prior Filings
An often missed step from other providers, when available,
we'll compare your prior year filings to ensure
consistency and accuracy with ERISA guidelines.

Simple Signing Process
If authorized, we can facilitate e-filing on behalf of the Plan Sponsor or you can easily and safely store DOL signing credentials online.

Summary Annual
Report Preparation
In accordance with ERISA requirements, we include the preparation of the Plan's Summary Annual Report for participants.

No
Additional Fees
Our fixed, per filing fee includes the preparation of all required Schedules and, if necessary, the Form 5558 (Extension of Time to File).